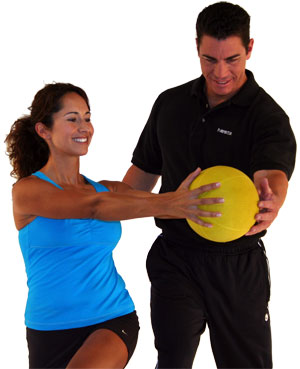 By:
Rick Richey, MS, PES, CES
In a perfect world we, as personal trainers, could simply design systematic programs for clients who are more than ready and willing to do everything we ask. Clients would not talk all the time, tell us what to do, cancel or continually show up late, complain, or ask "why" all the time. They would only say, "thank you sir,
may I have another?"
However, in this world, clients will and do complain, talk all the time,tell us what to do, cancel or come late, and always ask "why." Challenging clients come with the territory but with some sound professional advice, we can conquer bad habits and work smoothly toward changing lives. Here are a few ways to overcome obstacles.
Clients that: LOVE TO TALK
Some clients jabber on incessantly with what seems like an
inability to stop. This can be a challenge for many trainers. How
do we work with someone that loves to talk more than they want to
exercise?
Here are few important additions to the workout you need to use:
There's no doubt about it, passing the accredited NASM CPT certification exam is a task not to be taken lightly. It requires high levels of dedication and discipline to learn and integrate the knowledge and skills needed to be a fitness professional in today's competitive environment. We spent extensive time listening to enthusiasts and experts alike, and redesigned the NASM CPT certification program from the ground up, in order to better prepare members to pass the exam than ever before!
Instructional Design – It Makes a Difference!
Setting the foundations for the program to build upon are our instructional designers. For the first time ever, we have incorporated highly successful concepts of instructional design into the framework of the textbook and online content alike; making the program more relevant to the adult learning process than ever before. This includes new pedagogical features such as Memory Tips to remember more difficult concepts, Trainer Tips to support concepts with advice from industry experts, and callout boxes providing scientific insight, points of caution and pitfalls to avoid, as well as case scenarios providing real-life relevance with each chapter to support critical thinking and deeper levels of understanding.